Getting organized early on ensures more holiday cheer… and less Holiday stress!  These tips will help you keep track of the big tasks.
December 1 – 7:
Calendar
Set up a master calendar to schedule parties, school events, etc are planned.  Keep this handy to ensure dates are not overbooked and prepare in advance for upcoming events.
Budget / List
Set a budget for your Holiday Shopping. Set a ballpark figure for how much to spend on gifts—it helps to stay grounded when the shopping gets frenzied.  Make a master gift list and start Shopping early to avoid searching for the perfect gift at the last minute!
Take advantage of Online Shopping score some deals on Holiday Gifts by searching out online coupon codes on sites like retailmenot.com! (Don't forget the wrapping paper!)
Holiday Cards
Update your holiday card list to determine how many cards are needed, and make sure addresses are current.
Overnight Guests
Set up a plan for overnight guests.  Now is the time to start gathering sheets, bedding, and towels, and getting the guest room ready.
Baking
Make ahead un-iced cookes, bars, and breads. These will keep well in a freezer (well wrapped) and also work well for friends that may show up unexpectedly with a gift!
December 8 – 14
Wrap Gifts
Wrapping gifts as they are purchased will keep young eyes from finding out what Santa will be bringing this year, and make for a stress free Christmas Eve.
Trim the Tree / Decorate
It's time to break out the tree, trimmings, and decorations.  Take time to sort through items and gift, donate, or toss items that are no longer used.
Holiday Cards
Take a moment to address those Holiday cards. Whether using printed labels, or hand written envelopes, this can be a time-consuming task.
Menu Plans
Take some time to plan out the Holiday Menu for Christmas Eve, Christmas Day, and any other Gatherings you have planned.  Don't forget to include items that you will may be bringing to events that you will not be hosting as well.
Mail out Cards and Gifts
It is always a good idea to try to get all gifts and cards in the mail by December 10.
December 15 – 20
Clean the House
During the holiday season, housekeeping is even more of a challenge. Taking time now to get the house clean will ensure you are relaxing with family and friends over the Holiday.
Grocery Shopping
Now is time to do your grocery shopping to ensure you don't spend too much time in the aisles of the stores the days prior to the Holiday!
Last Minute Gifts
Time to wrap up the Holiday Shopping!  Also… Don't forget batteries for the kids toys!
December 20 – 22
Shop for Fresh Items
A quick run to the store to grab fruits & veggies…. Include some fresh flowers!  Double check your gift list before you leave to ensure you have everyone set, and perhaps grab a bottle of wine or chocolates for anyone that you may have forgotten.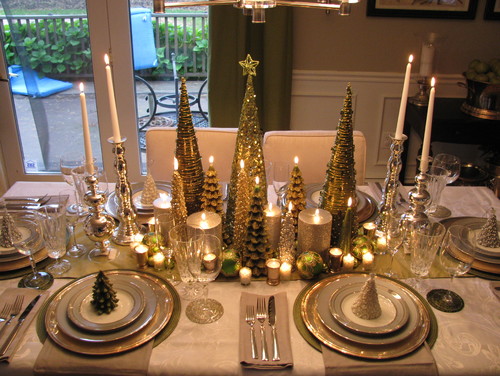 Set the Table
Extra time spent creating a festive atmosphere will be appreciated by all!
Batteries
Recharge the batteries on your camera, video camera, etc.
Prepping & Baking
Complete any baking and/or prepping that can be done ahead of time for your Holiday meals.
Merry Christmas!  Enjoy time with your Family & Friends!!