Spring is around the corner… it's time to start thinking about setting the stage from the curb!  Whether or not your home is for sale… you want your guests to see your home at it's best!  An overgrown lawn and an unattractive walkway will send a buyer to the next home listing.   A well manicured lawn and landscaped front yard can add the wow factor to your homes entrance.  Extend this to your front door!
A few accents will add character and style to your porch and ensure your visitors and potential buyers feel at home.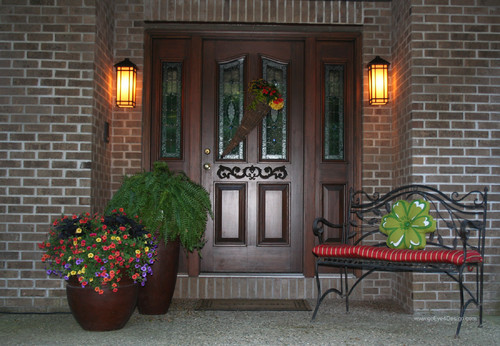 [divider]
A beautiful light and airy front entrance.
[divider]
This interesting door design provides privacy yet allows light into the home.
[divider]
A fresh coat of paint along with the unique house numbers give this door character and charm.
[divider]
Think ahead to Spring… Set up your plan for your curbside appeal.  Need help?  Call Kathy for a consultation!  (616) 402-4871